In Conversation With, the Lancet Commission on Gender and Global Health's seminar series, returned with a seventh episode hosted by Secretariat Lead Emma Rhule on October 27th. Grassroots activism at the intersection of gender and health featured four partners from the Secretariat's flagship public engagement programme, Changemakers, and highlighted the work of youth-led feminist organisations in Kenya and South Africa. Rhule, a senior researcher at UNU-IIGH, was joined by: 
This webinar was co-convened with UNU-IIGH. Rhule and speakers were joined by Commissioners and livestream audiences on Zoom and YouTube. A recording of the hour-long webinar is publicly available on the Commission's YouTube channel. 
Setting the scene
Rhule began with a brief throwback to the early days of the Commission, which included countless conversations on its underlying principles and the need for an approach that is feminist, intersectional, decolonial, and political "to achieve transformative change at the intersection of gender and health". She described an early awareness of the need to seek out voices beyond those of the Commissioners and interrogate notions of evidence and expertise.  
Under the leadership of Prof. Pascale Allotey, Co-Chair and then-director of UNU-IIGH, the Secretariat secured funding from the Ford Foundation to support engagement with youth-led feminist organisations working at the intersection of gender and health. In this sociopolitical climate which threatens not only potential progress but past victories, youth and community voices are key to upending a broken status quo and identifying more forward-looking ways of working. Seeking to take an explicitly decolonial and feminist approach, three guiding principles were developed to shape the Changemakers programme of engagement: look beyond the usual networks, create equal partnerships, and prioritise community outcomes over research outputs.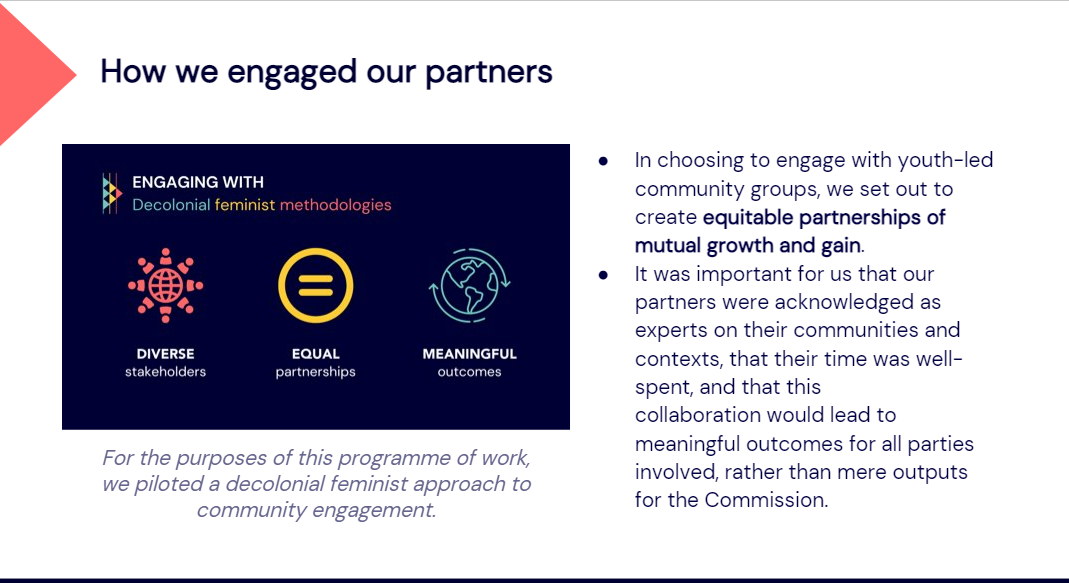 The four partners convened by the Secretariat are strong examples of youth voices making themselves heard at the communal, national, and international levels. Over the course of 2022, representatives from the Activist Education & Development Centre, the Rev. M.S Lugongolo Foundation, Young Women's Leadership Institute, and Zamara Foundation as well as members of the Secretariat have had the opportunity to get to know each other, experience a series of workshops together, and envision what continued partnership beyond the life cycle of the Changemakers programme might look like. This webinar served as both a testament to the collaboration and conversation of the previous months and a prologue to the next phase of this partnership. 
On that note, Rhule swiftly introduced the speakers as well as a video package featuring the panel discussion, which was pre-recorded to facilitate equal and meaningful participation from all speakers in the face of unpredictable technical difficulties. 
Panel discussion: Exploring youth-led feminist activism
Lucy Kombe opened the panel by posing a question on behalf of Zamara Foundation, asking her peers: What is the role of women's rights organisations in creating demand for action towards systemic change, especially in policy influencing? 
Jessica Booysen from Activist Education & Development Centre began by reaffirming the role women's rights organisations play in continually promoting awareness and understanding of the importance of women's rights in the face of countless gender-based issues. It is the role of these organisations, Booysen noted, to ensure that these issues are always on the agenda by participating in policy advocacy and legal reform to improve women's health and rights. Mawande Lugongolo of the Rev. M.S Lugongolo Foundation echoed Booysen in highlighting the Foundation's work on policy advocacy and change. He also noted that the Foundation generates demand for action by working with men and boys to unlearn some of the harmful things they have been taught and to instead work toward an equal society.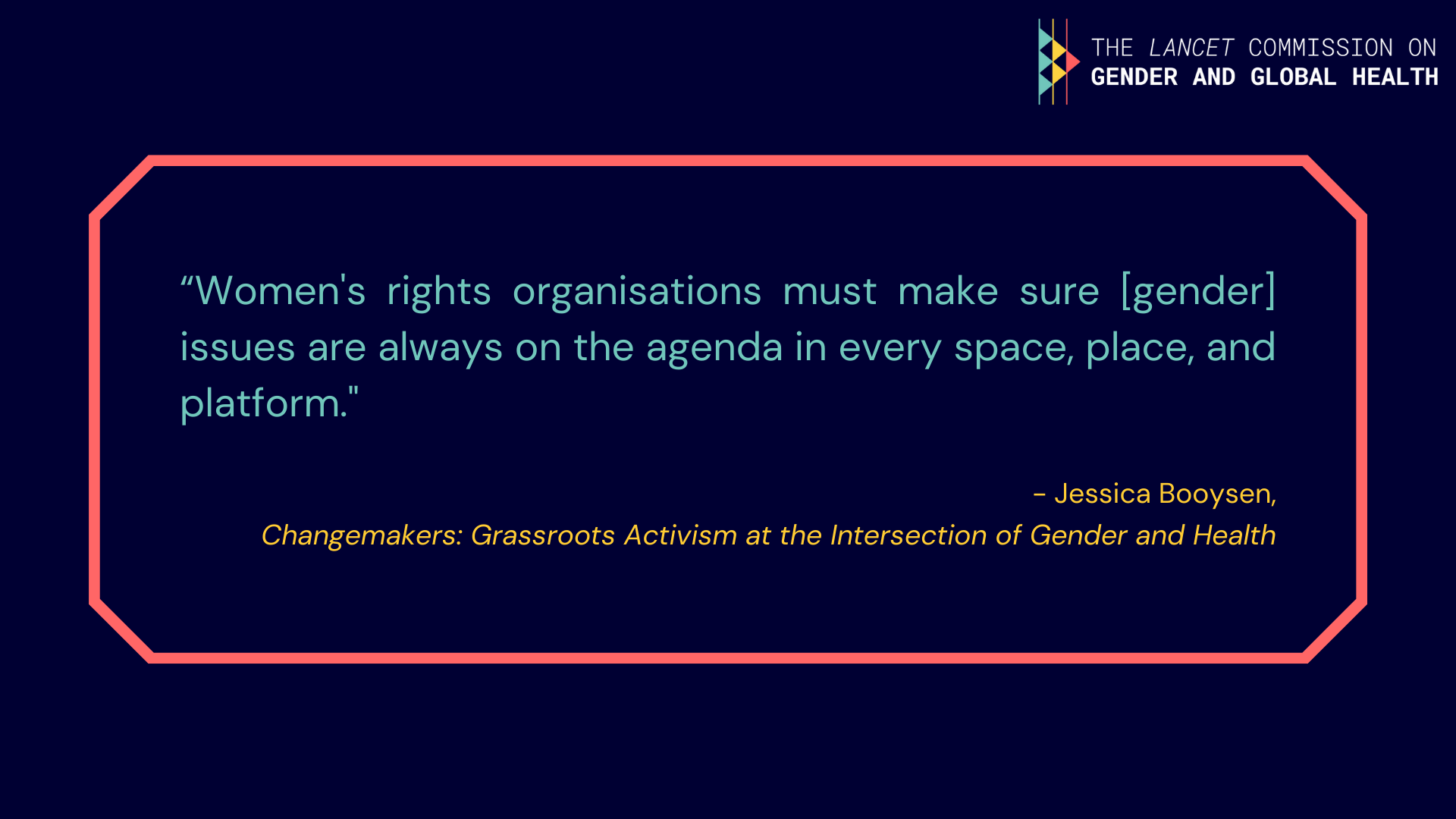 Speaking on behalf of Young Women's Leadership Institute, Melvine Obola spoke on the need for women's rights organisations and young feminist-led movements to continually challenge patriarchy within societies and demand systemic change within communities. She reminded audiences that many of the rights enjoyed by women today were fought for by the women's rights organisations that have come before, and that it is the role of contemporary activists to continue this fight by ensuring that knowledge is passed down and strengthening the capacities of young people to work toward policy advocacy and change. YWLI also believes that women's rights organisations and movements have a role in co-creating spaces for feminist learning to amplify demand for change. 
The next question for the group came from Booysen, who asked: What are your organisations doing to ensure that young people in all their diversity are receiving the health information they need? 
Lugongolo detailed the foundation's working relationship with schools in various districts, which allows them to engage with young people on health-related issues through informational pamphlets, in-person dialogues, and sporting activities. He highlighted the dialogues as an opportunity for young people to pose questions and debunk myths. Similar activities are also conducted with young people who have dropped out of school, using community libraries, halls, and parks as gathering places. Finally, Lugongolo spoke about the importance of forming partnerships with NGOs and departments of health so that young people are able to access not only information, but also services.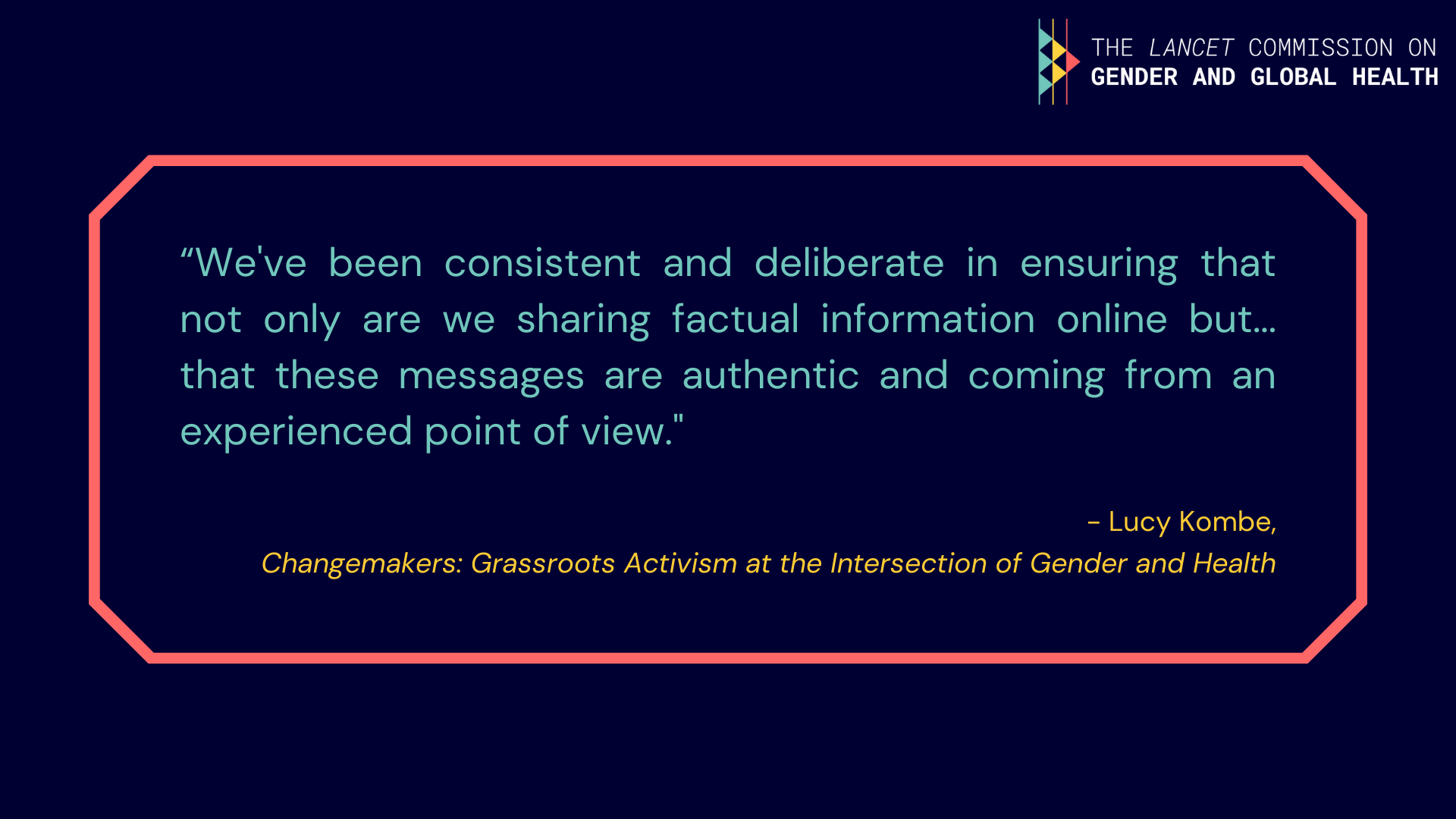 YWLI and Zamara spoke about the use of digital platforms to make information accessible and engaging. Obola noted that these platforms facilitate not just the sharing of information but the mobilisation of young people for change. YWLI also holds community conversations in different parts of the country to create safe spaces for women and girls in their diverse gender identities to share their lived experiences and "open new frontiers for adolescent girls and young women's engagement in policy processes". Both organisations shared their hopes of becoming an information hub for young feminists, and Kombe noted the care Zamara devotes to ensuring not only accuracy but also authenticity in the information it shares through meaningful engagement of and co-creation with affected populations. Beyond awareness raising and information sharing, Kombe shared that Zamara is also working towards ensuring access not just to information but also services for young women and girls, similar to the work being done by Lugongolo. 
Representing the foundation, Lugongolo posed a question to his peers regarding collaboration and alliance: What meaningful role do you think men-led organisations should be playing concerning gender and health issues, and are your organisations open to strategic planning in terms of addressing gender and health issues? 
Obola centered her answer around communication, noting that there is a role for men-led organisations in working with men and boys to catalyse conversations about gender equality and respecting women's boundaries and bodies, recognising oppression and discrimination, and unlearning as well as challenging patriarchy and misogyny. Kombe touched on similar themes of learning about, acknowledging, and recognising the privileges bestowed upon men by the patriarchy, and being deliberate and proactive in showing solidarity with the movement for feminism and women's rights. She noted that men have a role to play both as individuals and as part of a larger movement to bring about the societal equilibrium that feminism seeks to attain through gender equality.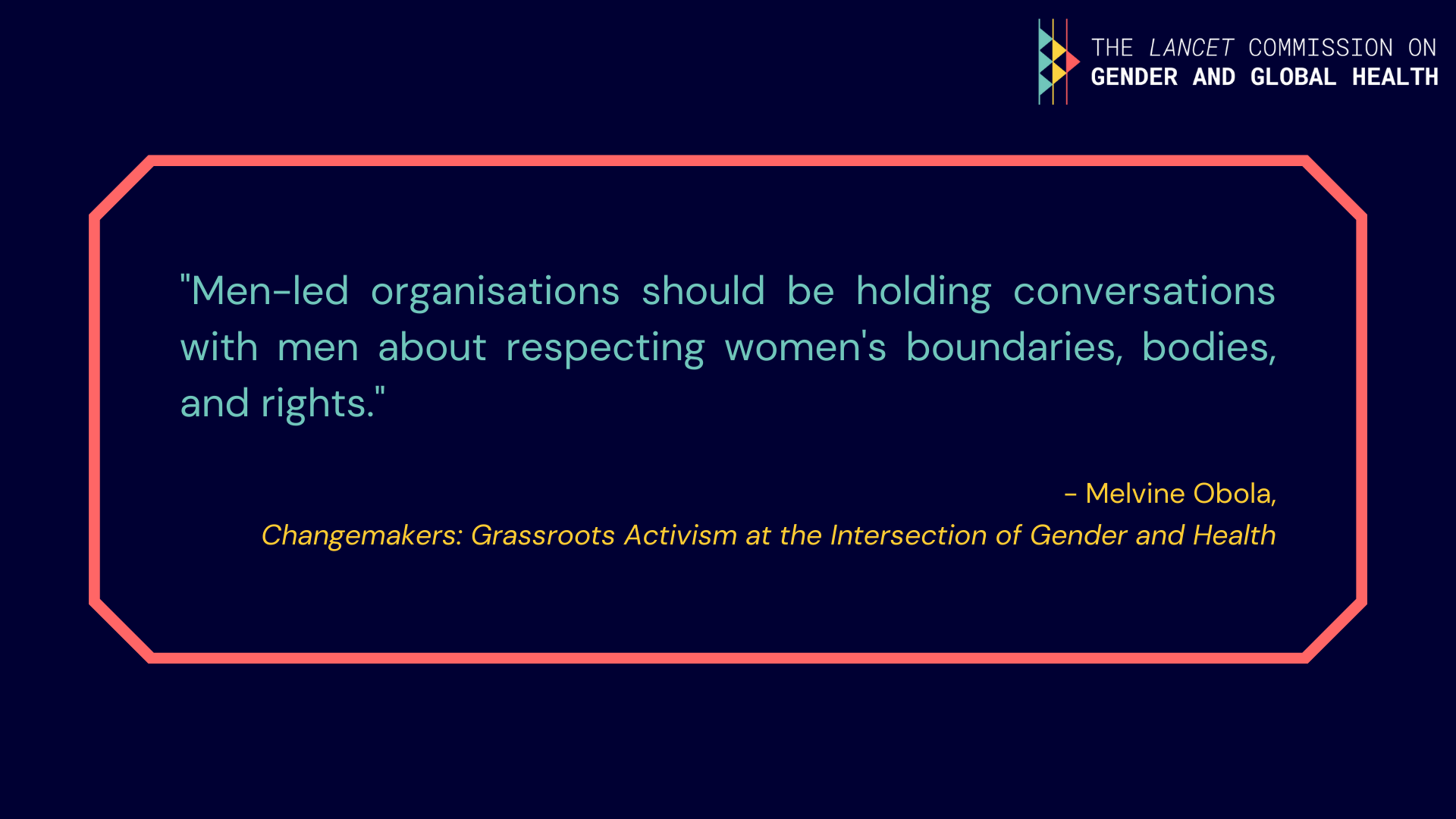 Booysen emphasised the importance of working together to address issues which affect both women and men, such as gender-based violence. She highlighted information sharing, reduction of stigma, and encouragement of health-seeking behaviour as key areas in which men-led organisations could drive change through engaging adolescent boys and young men. 
Bringing the panel discussion to a close, Obola shared a forward-looking question from YWLI with her peers: What does the future of young feminist organising look like in your country? 
Kombe shared the future Zamara hopes to see in Kenya: one in which young feminist organising is outspoken, courageous, creative in pushing for transformative change and social justice, and intentional in ensuring diversity and representation. She identified some conditions which will be necessary to realise this vision, such as a focus on intergenerational feminism through mentorship and the need for more flexible and accessible funds and resources, and expressed optimism for a future in which young feminists will achieve the social justice they are working toward.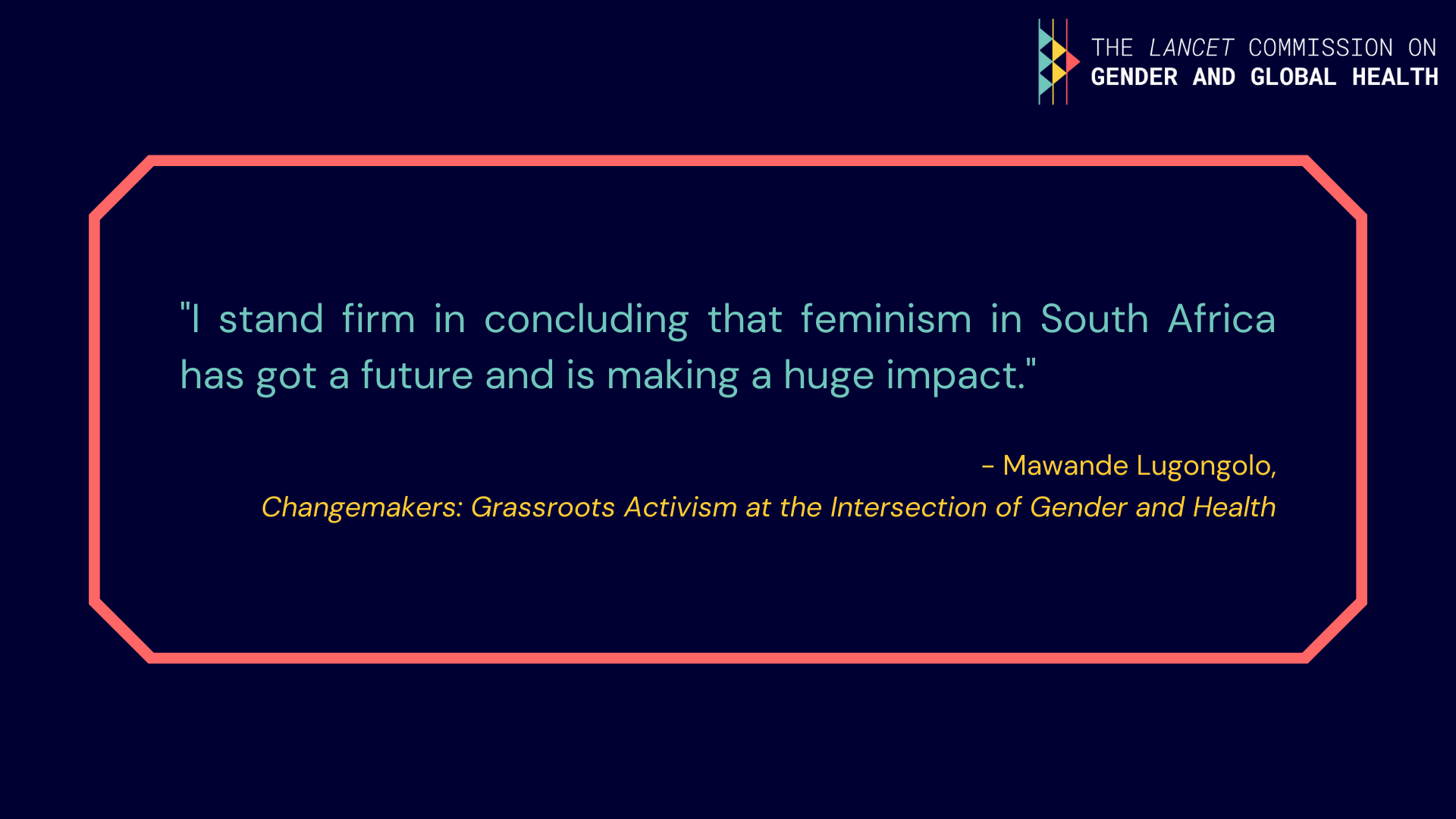 Booysen noted that the future of young feminist organising in South Africa must be one in which young people are empowered to address their own challenges, as they "are the experts on their own experiences". In the face of persistent challenges, she stressed the need for young people, especially women of colour and LGBTQI individuals, to be included, supported, and given an opportunity to lead. Lugongolo ended the conversation on a hopeful note, expressing his firm belief that the future of feminism is South Africa is looking bright thanks to the influence and growth of feminist-led organisations in the country. With more people starting to understand what feminism is, more women in leadership positions, and the establishment of a ministry for women, children, and people with disabilities, Lugongolo painted a picture of a movement going from strength to strength. 
Audience Q&A: Towards a more inclusive way of working
Rhule opened the Q&A session by welcoming the three panellists who were able to join the webinar live. 
Any reflections on the discussion? 
Obola agreed with the points made by her fellow panellists, in particular the role of men-led organisations in co-creating a space where men and women can work together in different roles to bring about gender equality. She also noted with dismay the increase of sexual violence, GBV, and cyber-bullying of young feminists during the pandemic, and reaffirmed the need to continually call out and challenge misogyny.  
Why do you think that feminism is important for men and the patriarchy is so harmful for all? 
Lugongolo addressed this question by speaking about inheritance, noting that "we have inherited a system that is now breaking us". Societal expectations of men – that they should not express emotion or seek health care – cause harm to everyone, and men have to break the inheritance chain of bad beliefs and practices. The foundation contributes towards this by teaching young men and boys that it is high time to challenge the status quo and demand an equal society, one that is free of a system which has caused increasing rates of suicide among South African men who struggle to live up to the exacting standards of the patriarchy. 
What does it mean to work in a fully inclusive way, and what are some of the challenges? 
Drawing on Zamara's experiences, Kombe reminded the audience that inclusivity is not just about having people at the table. Beyond meetings and convenings, Zamara is deliberate in ensuring that programmes, funding, and interventions engage different constituents from the inception stage. Interventions such as co-creating concepts, integrating inclusive language, and ensuring accessibility might seem small, but will have long-term impacts. Most importantly, however, Zamara works to create safe and accessible platforms for minoritised groups of young people to speak for themselves. While Kombe noted that the foundation is not always able to reach as many people as they would like due to constraints in terms of resources and funding, they have been able to make significant strides by partnering with other organisations which are similarly dedicated to inclusivity. 
What do you see as missing or needed in your ability to collaborate or work with academics and researchers? 
As an organisation which relies heavily on data for advocacy, Kombe shared Zamara's struggle to access citizen-generated data which often cover key topics that government-provided data might overlook or not keep contemporary records on. Citizen-generated data can also offer richer insights as they capture community interventions and human stories which can be impactful for advocacy. Her recommendation is for research to adopt and include citizen-generated data, which are often well disaggregated in terms of age, sex, and context of data origin. 
Obola echoed the same support for the inclusion of grassroots voices in research and academic outputs, pointing out that researchers are often liable to overlook key interlinkages, challenges, and groups such as accessibility to mental health services, women and girls with disabilities, sexually minoritised individuals, and lack of adequate and flexible funding for community organisers. YWLI has tried to bridge this gap in research by working with communities and unregistered young feminist organisations, but a lack of resources and perpetual threats to the safety of young feminist organisers have constrained their ability to do so. 
Lugongolo identified similar challenges in his context, articulating the need for more community-informed research so that NGOs can design programmes which respond to the needs and gaps identified. He also highlighted the challenges of NGO-researcher partnerships in which both sides have to deliver on funder expectations such as milestones rather than focusing on creating quality work through consistent engagement. 
Final thoughts and moving forward: The importance of relationships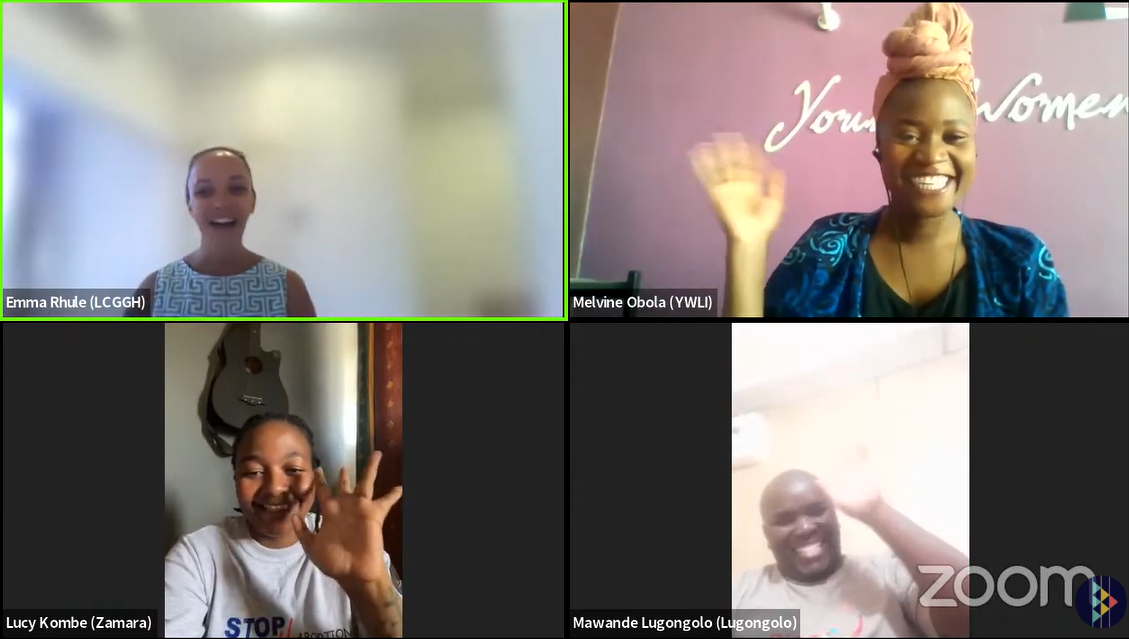 In wrapping up the session, Rhule added her own reflections on the Changemakers partnership to the list of recommendations voiced by Kombe, Obola, and Lugongolo for better collaboration between researchers and grassroots activists. She stressed the importance of building relationships in order to have difficult and nuanced conversations, and advised researchers to factor in time for relationship building right from the start, while developing research and funding proposals. She also suggested having partners involved from the early stages of inception, ensuring equitable distribution of funds, and making sure that all data collected is always co-owned, community-informed, and returned to communities in order for them to benefit from this knowledge. 
Rhule thanked the panellists for taking the time to join not just this webinar, but the engagement activities over a period of nine months, adding that the work of the Commission will be stronger for it. 
About the Author
Tiffany Nassiri-Ansari sits on the Secretariat of the Commission and serves as a Research Assistant at UNU-IIGH.